MYO/Punch Rotating Surgical Punch
Designed to Cut a Clean and Round Hole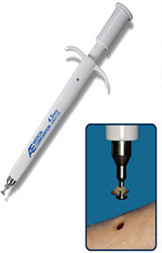 Hollow cutting tip with 10 degree undercut moves tissue away from inside edge of hole during cut to provide a clean and round hole.
Patented Roating Cutting Action Dual cutting action combined with a full 90 degree rotation of a scalpel sharp edge creates a clean circular hole.
Syringe style grip designed to provide comfort during use and excellent visibility of the operative site.
Low profile cutting tip designed for easier entry.